Nandan Nilekani 

Chairman of the new Unique Identification Authority of India
(UIDAI)
Nandan Nilekani born (June 2, 1955) is an Indian entrepreneur. He currently serves as the Chairman of the new Unique Identification Authority of India (UIDAI), after a successful career at Infosys Technologies Ltd. He is also now heading Government of India's technology committee, TAGUP.
Early life
Nandan Manohar Nilekani was born in Sirsi town in Uttara Kannada district of Karnataka, as the younger son of Durga and Mohan Rao Nilekani in a Hindu family. His father worked as a General Manager of Mysore and Minerva Mills. His father, who subscribed to Fabian Socialist ideals, had an influence on Nandan during his early years. He has an elder brother, Vijay, who works in the Nuclear Energy Institute.
He studied at St. Joseph's High School Dharwad,studied at the Bishop Cotton Boys' School, Bangalore and later in Indian Institute of Technology Bombay, Mumbai where he graduated with a B.Tech in Electrical Engineering in 1978.[4] His early years were marked by his father's job transfers and re-locations. He spent the first twelve years at Bangalore, and then moved in with his uncle's family in Dharwad, after his father had been transferred.
Career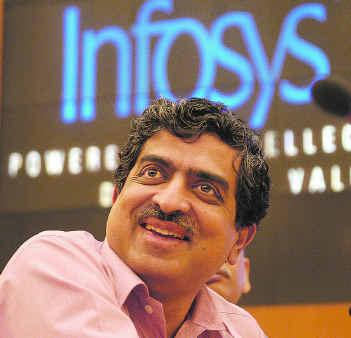 Nandan Nilekani, after graduating from IIT Bombay in 1978, joined Mumbai-based Patni Computer Systems where he was interviewed byN.R. Narayana Murthy. Three years later, in 1981, Murthy walked out of Patni following a disagreement with one of the Patni brothers. His entire division walked out with him. The defectors decided to start their own company, Infosys.
Nilekani became the Chief Executive Officer of Infosys in March 2002, taking over from Murthy. Nilekani served as CEO of the company from March 2002 to April 2007, when he relinquished his position to his colleague Kris Gopalakrishnan, becoming Co-Chairman. He left Infosys on 9 July 2009 to serve as the chairperson of the Unique Identification Authority of India, in the rank of a cabinet minister under invitation from the Prime Minister of India, Dr. Manmohan Singh.
He co-founded India's National Association of Software and Service Companies (NASSCOM) as well as the Bangalore Chapter of The IndUS Entrepreneurs (TiE).
He appeared on The Daily Show with Jon Stewart on March 18, 2009 to promote his book "Imagining India." He spoke, at a TED conference, about his ideas for India's future.
He has an estimated net worth of the Indian rupee equivalent of US$1.3 billion. In 2009, Time magazine placed Nilekani in the Time 100 list of 'World's Most Influential People'
Nilekani has been extensively quoted in Thomas Friedman's book The World is Flat.
Personal life
Nandan Nilekani is married to Rohini, whom he met at a quizzing event at IIT. They have two children Nihar and Janhavi, both studying at Yale University.
Bibliography
One of the youngest entrepreneurs to join 20 global leaders on the prestigious World Economic Forum (WEF) Foundation Board in January 2006.
Member of the Board of Governors of the Indian Institute of Technology (IIT) Delhi
Member of the review committee of the Jawaharlal Nehru National Urban Renewal Mission.
Forbes "Businessman of the Year" for Asia in 2007.
He, along with Infosys founder (and currently non-executive chairman) N. R. Narayana Murthy, also received Fortune magazine's 'Asia's Businessmen of the Year 2003' award.
Named among the 'World's most respected business leaders' in 2002 and 2003, according to a global survey by Financial Times and PricewaterhouseCoopers.
Awarded the Corporate Citizen of the Year award at the Asia Business Leader Awards (2004) organized by CNBC.
Joseph Schumpeter Prize for innovative services in economy, economic sciences and politics – 2005.
Padma Bhushan, one of the highest civilian honors awarded by the Government of India – 2006.
Was presented the 'Legend in Leadership Award' by the Yale University in November 2009. He is the first Indian to receive the top honour.
Was awarded an honorary Doctor of Laws degree by the Rotman School of Management at the University of Toronto on the 31st of May, 2011.
NDTV Indian of the Year's Transformational Idea of the Year Award in 2011
Nandan Nilekani. Imagining India: The Idea of a Renewed Nation (March 19, 2009 ed.). Penguin Press HC. p. 528. ISBN 1594202044.
In this book, Nandan discusses topics such as the future of India, its recent history, the ideas and attitudes that evolved with the times and contributed to the country's progress, India's early socialist policies, its young population, Information Technology, caste politics, labour reform, infrastructure, higher education, and the English language in India.